Are You Searching For Ubud Villas for Rent?
Do you want to get the best deals and discounts on luxury villas in Ubud? Then rely on Villa Bali Biz! We always strive to provide you with the right details and information about some of the reliable villa rental providers in Ubud. At our website, you will find a wide selection of private villas for rent in Ubud. To book the right type of private villa in Ubud and get the right information, please visit our website today!
Best Family Friendly Villas for Rent in Ubud
Looking for a luxury Ubud villa with a private balcony or perhaps you are looking for a private villa in Ubud with a swimming pool – whatever your accommodation needs are we promise to match them. We also give you access to a variety of kid friendly and family friendly villas for rent in Ubud. Villa rental in Ubud is absolutely hassle free with us.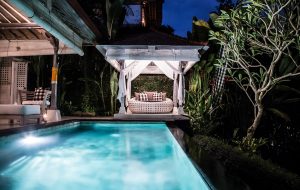 Villa Shamballa
-
Villa Shamballa Location Villa Shamballa is very conveniently located in a small traditional village called Payogan which means "place to do yoga". Although just 5 minutes drive from the centre of Ubud one senses they are miles away in the… ≡ View Listing