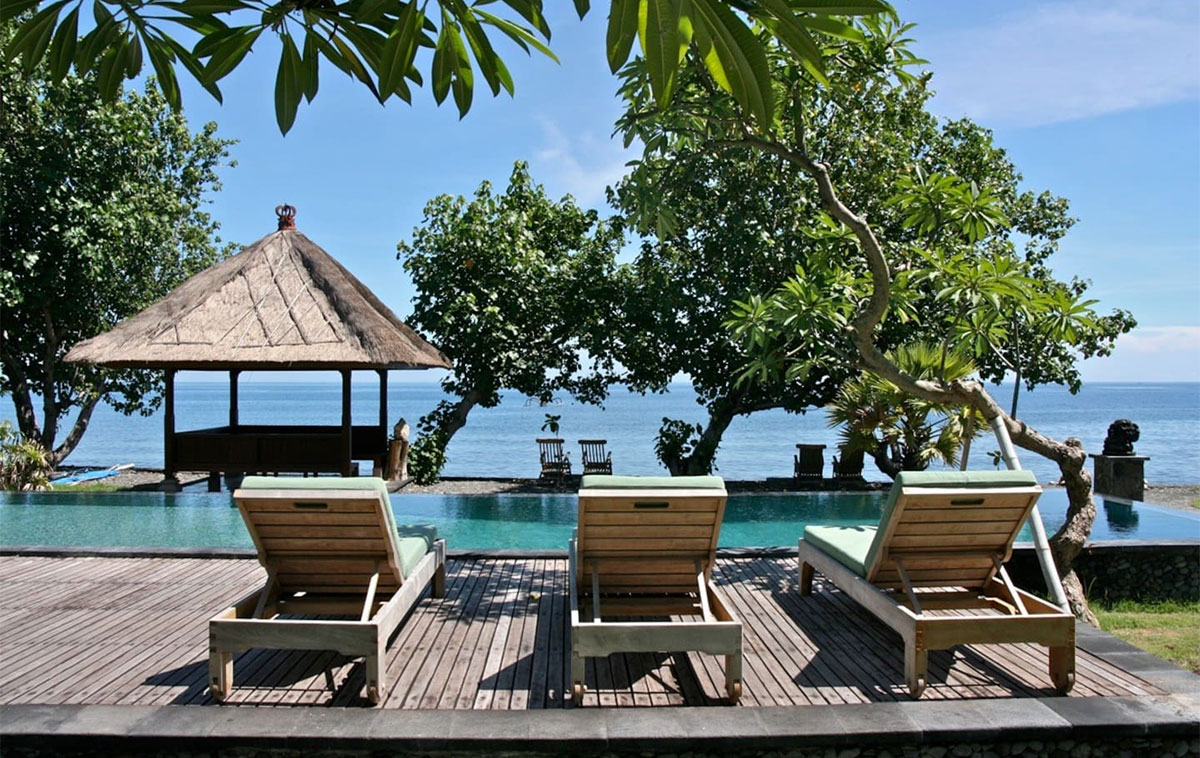 Villa Semadhi Location
Pemuteran is in the North West coast of Bali, a 3, 5 hours scenic drive from the Airport in Denpasar. It is close to Bali Barat National Park, Menjangan island diving sites and some of the most important temples in Bali.
Villa Semadhi lies directly at the beach with the Bali sea in front and nine mountains as dramatic backdrop. The sea is calm and free of strong currents and waves which affect most other parts of the island. A place with beautiful scenery, the largest area of shallow coral reefs in Bali and a serene beach far away from the hustle bustle of south Bali. A perfect place for those who give more emphasis on natural beauty and peacefulness.
Villa Semadhi Description

Villa Semadhi is a luxury private villa situated in a large secluded beach front garden and can host 8 people comfortably. There are 4 air-conditioned suites with king size beds, private bathrooms, a lounge room with TV/DVD, 2 veranda's, separate dining and kitchen pavilion in a lotus pond, a bale, Jacuzzi and a 4 x 14 meter swimming pool, outdoor shower and beach pavilion.
Villa Semadhi is part of Puri Amertha. This resort is built on the foundation of community participation. Local wisdom was applied to every aspect of its development, with the purpose of creating an island paradise for visitors, and providing income for the local community.
The villa can be rented in total or per room depending on availability. On the grounds is a bungalow for the staff and service is available 24/7.
Villa Semadhi Services
Semadhi is under management of Amertha, one of the leading resorts in the area. Breakfast is served at the villa. You can enjoy your lunch and dinner at the villa or at one of the local restaurants. A cook can be provided or if you wish you can prepare your own meals. There is a free shuttle service to the excellent restaurants of Taman Sari and Amertha, a few minutes away.
All services, trips, spa treatment, massage, laundry, telephone calls, internet connection or transport can be arranged through the staff. If you wish, one of our English-speaking drivers can pick you up at the airport or any other location and drive you to Pemuteran in an air-conditioned comfort car.
Villa Semadhi Features
Next to simply relaxing there are a number of options in Pemuteran to ensure a wonderful holiday. Semadhi has its own traditional boat available for romantic sunset tours, sailing, snorkelling, diving and fishing trips. You can also enjoy a wide range of Tropical Spa & Massage treatments.
A (snorkelling) trip to Menjangan Island is highly recommended, one of the best reefs in Indonesia. You can go trekking in Barat National Park, book a guided bird watching tour or explore tracks close to the villa that are especially nice at sunrise and sunset.
Villa Semadhi is close to Pulaki temple, where the mountains touch the sea. It is a place with a special energy that attracts many spiritual people. You can join meditation classes or simply wind down and recharge yourself.
Villa Semadhi Map

THE ENTIRE VILLA
PAX
DAY RATE (LOW)
DAY RATE (HIGH)
Use 4 Suites
8
$342.00
$454.00
Use 3 Suites
6
$320.00
N/A
Use 2 Suites
4
$297.00
N/A
Use 1 Suites
2
$275.00
N/A
Discount Rates
Stay 7 - 9 nights 5,00 % High Seaseon, 3,00 % Low Season
Stay 10 - 14 nights 7,00 % High Seaseon, 5,00 % Low Season
Stay 15 nights or more 10,00 % High Seaseon, 7,00 % Low Season


---


Last minute offer on request 2 weeks prior to arrival
Rates are net, inclusive of 10% tax & 10% service charge, light breakfast and limited WiFi
High season is July, August, Dec 15 - January 7
In the high season there is a fixed rate for the entire villa.
In the high season we only accept connected bookings or a minimum of 5 vacant nights in between bookings
Villa Semadhi can accommodate up to 11 people with extra beds US$11.21/night/extra bed incl light breakfast
Baby Cots and a high chair are available free of charge
A 25% deposit is required when booking, the balance is required 4 weeks before arrival