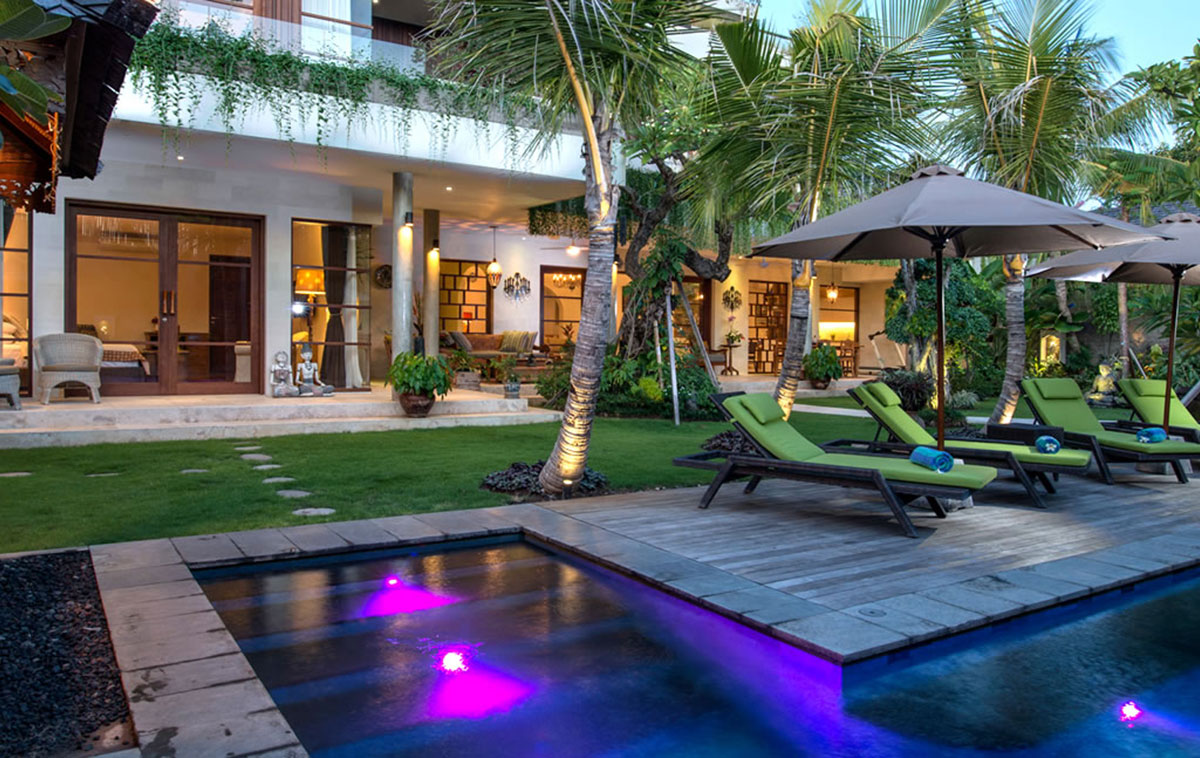 The Baganding Villa Location
Tucked away down a small lane leading to the beach, The Baganding Villa is a haven of peace and tranquility in the heart of Seminyak, within walking distance of sunset beach and the famous Ku De Ta beach bar restaurant (5 mins) and the numerous trendy restaurants and bars in Jalan Laksmana (10 mins).
The Baganding Villa Description
The Baganding (which means 'a home of the source of blessing' in the batak language) was recently built on the site of the previous rental villa, Villa Cottage Place, as a new holiday-cum-retirement home for its owners. The villa ambience is one of quiet and tasteful opulence, which is enhanced by the owners' eclectic collection of antiques collected over the years, and yet the villa manages to retain a cozy, homely atmosphere.
It has been carefully designed to combine luxury and comfort, a place to chill-out and relax while on holiday, with many different spaces to sit and read or just soak up the exotic atmosphere. Perfect for family living, guests are immediately made to 'feel at home' by a team of caring and friendly staff who operate discreetly in the background while allowing guests to treat the villa as their 'home-away-from-home'. The villa is serviced by a team of 8 staff, including villa manager, in-house chef, 3 housekeepers, part-time gardener, pool attendant and night time security guard.
Modern rustic in style, the villa incorporates all modern facilities (including 4 flat screen cable optic HD satellite TVs, a music player amplifier connected to 6 speakers around the building, including 2 speakers on the rooftop terrace, enabling guests to play their private collection of music (iPhone, iPad or other resource) by simply connecting through the IPod docking station or cable which has been provided and located in the living room. A collection of movies, with over 100 titles in 2D Blue Ray format and 100 titles in 3D blue ray format is available with a home-theatre sound system located in the TV/reading room on the first floor). For those who enjoy playing piano, there is an antique 'Steinweg Grotrian' upright piano which is located in the living room and for those who enjoy to work-out without leaving the villa there is a tread mill (Life Sport M-Run) located on the verandah overlooking the garden. The 3 bedrooms in the main building are spacious in size while the 4th bedroom in the annex is cosy and cute, with a lumbung style roof. All our bedrooms have high quality mattresses on the beds to ensure maximum comfort at night.
The rooftop bar and terrace is a great spot to watch the sunset while enjoying 'sundowners'. There is a 12 metre swimming pool, with shallow end suitable for young children (115 cm deep) and a deep end for diving in (230 cm deep). The garden provides a tropical setting for the outdoor verandah which spans the full length of the indoor living room.
The Baganding Villa Features and Facilities
Location
Basangkasa, Seminyak, Bali, Indonesia
Neighborhood
Oberoi Hotel, Ku De Ta Beach Bar, Seminyak's sunset beach and Jalan Laksmana's gourmet restaurants and night spots.
Capacity
8 guests (4 ensuite bedrooms with 2 king, 1 queen-size and 2 large single beds); plus, extra sleeping facilities in TV Room. A baby cot is available.
Living Areas
Open plan indoor living room with dry kitchen area at one end, fully equipped separate kitchen, outside verandah with dining table and covered seating area overlooking the garden, tropical garden with sundeck and Bale (traditional Balinese gazebo), first floor terrace spanning the length of the building, air-conditioned TV Room, second floor rooftop bar with outdoor eating area and chill-out corner.
Pool
12 x 4 metres, with shallow kids' section.
Staff
Total of 8. Villa Manager, in-house chef, 3 house-keepers, part-time gardener, pool attendant and security guard.
Dinning
Full-time chef capable of providing a range of western and Indonesian dishes.
Communication
There is currently no landline phone available in the villa. A mobile phone with local card can be arranged. Complimentary Wi-Fi internet access is available throughout the villa and garden.
Entertainment
4 satellite TVs, in-house sound system, DVDs and book library, 1 massage bed and spa menu for outsourced spa services.
Additional Facilities
Parking space for 2 cars; laundry service; mini safety deposit boxes in each bedroom; hairdryer, barbecue; back-up power generator.
Property Area
735sqm (total land area); 585 sqm (villa).
The Baganding Villa Map
Bedroom
Low
High/Peak
4 Bedrooms
$ 750 USD
$ 850 USD
3 Bedrooms
$ 650 USD
$ 700 USD
2 Bedrooms
$ 500 USD
Not Available
Note
++15% Government Tax and Service
Low Season
9 January until July 30 June (Excluding Easter)
1 September until 19 December
High/Peak Season
10 until 17 April (Easter)
1 July until 31 August
20 December until 8 January
High and Peak Season minimum 3 nights