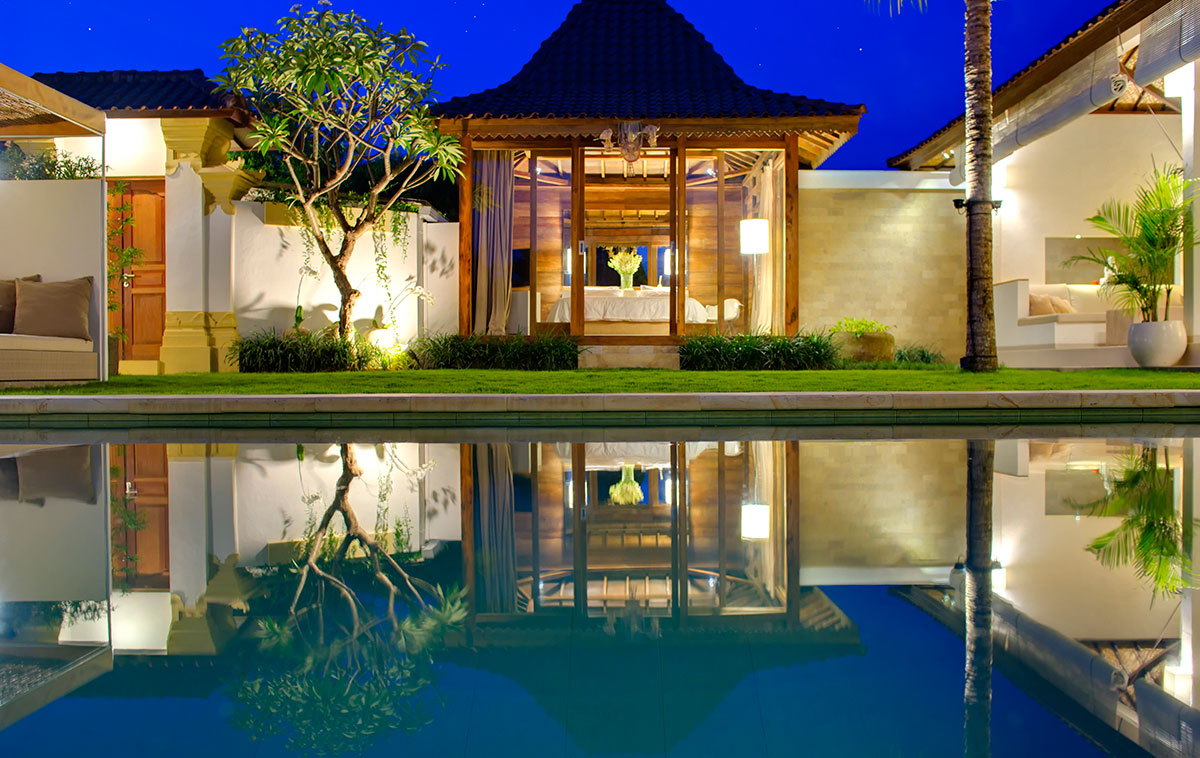 Sahana Villa Location
Located in the center of Bali's trendy Expat area, Seminyak, yet very quiet and tranquil. Off the main street and within walking distance of Seminyak Beach @ KuDeTa. The villas are located within a 5 min radius of the Top-5 Restaurants, Lounges & Bar Venues.
The Villa offers three air-conditioned master bedrooms complete with large ensuite semi-outdoor bathrooms. A large living and dining area opens to the garden. The villas each include a fully equipped kitchen with all modern conveniences.The villas are 800m from Kudeta beach. A 15 minute stroll and you can enjoy a wonderful day in the surf or on the sand.
Sahana Villa Description

At Sahana Villas, we are proud to be rated as one of the most reputable villa rental providers in Seminyak. We specialize in providing luxury private villas for rent in Seminyak at the most reasonable prices. Our main objective is to provide every vacation accommodation seeker a budget-friendly option at the best Seminyak villa. Our courteous and friendly team at Sahana Villas always strive to provide you the best deal on villa rental in Seminyak. By booking our high-end villa for rent in Seminyak, you will get an opportunity to enjoy a comfortable and relaxing stay in a cost-effective way.
Sahana Villa Features
Three air-conditioned master bedrooms
Large ensuite semi-outdoor bathrooms
Large dining and living area with a beautiful garden
8 x 3 meter swimming pool
Fully equipped kitchen with modern appliances
Sahana Villa Facilities
En-suite semi-outdoor bathroom (with an adjacent beautiful garden space)
Top quality and branded shower and spa products that are made especially for Sahana Villas by Spa Factory Bali
200 x 200 king size natural latex orthopedic mattresses
Micro fiber duvet blankets for extra comfort
100% fine cotton linen and choice of pillows to ensure healthy sleeping
Air-conditioning system with 8 filters and air cleaning function
Satellite TV 32" and DVD player
Safety boxes
The option of having 1 bedroom with twin bedding
Sahana Villa Services
Daily Continental Breakfast
Airport Transfer in a Private Vehicle
Internet WiFi
Bathroom Amenities
Welcome Drink & Chill Towels
Free Flow Mineral Water
Full Staff
On-call Manager
HiFi iPod Dock
DVD Player & Library in Each Room
1 Baby Cot and High Chair
Kids Toys
…and free flow of coffee!
Sahana Villa Map
Villa
Low
High
Peak
3 bedrooms
US$450.00
US$495.00
US$518.00
Low Season
For the remaining time of the year
High Season
For the entire month of June, July, August, until the 2nd Sunday in September
Easter (for 10 days), Chinese New Year (for 1 week)
Peak Season
Only during Christmas holidays (starting Friday 22 to Saturday Jan 13)
Minimum Stay Requirements:
Low season : 3 nights
High season: 5 nights
Peak season: 7 nights

All villa rates (including discounted rates) inlude government taxes/charges.
10% early bird discount for bookings secured 6 months prior check in.