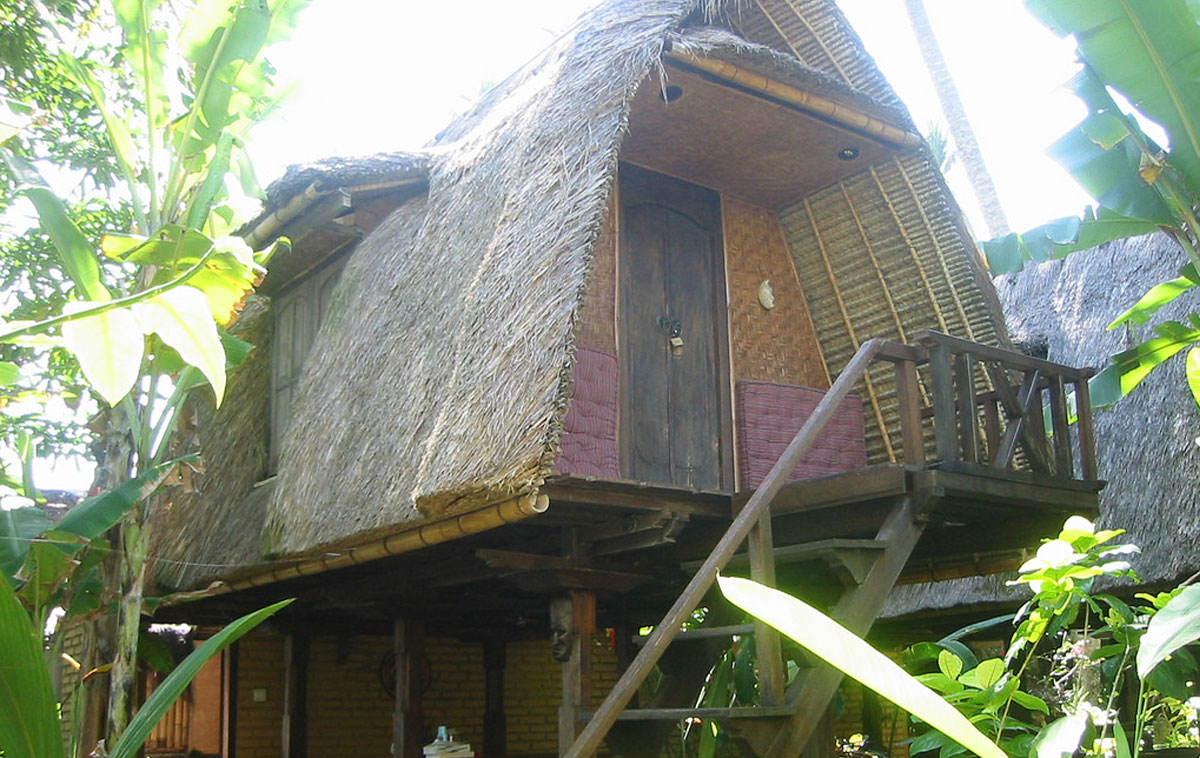 Lumbung Damuh Location
Situated in the East of Bali, between Padangbai and Candi Dasa in a place called Buitan and is also known as Balina. We are right on the coast of Amuk bay. At our little homestay right on the beach, we have 3 Lumbungs, 2 standard, good for 2 persons each, and one new extra exclusive, big enough for a small family.
Lumbung Damuh Description

The Lumbungs are decked out with all the comforts: spring beds, hot and cold showers (the superior room has a bathtub), soap and towels, mini bars, fans, and we also provide a laundry service. All the Lumbungs are set in a lush tropical garden and have views to the Indian Ocean and the islands of Nusa Penida and Nusa Lembongan, or the garden ponds.
Lumbung Damuh Services
After a good nights sleep you can have your breakfast at your Lumbung. And here you can have what your heart and stomach desires provided its available. Let us just tantalize your taste buds. Would you like fresh fruit and yogurt, pancakes, or your special Indonesian Nasi Goreng (fried rice), French toast or will that be sausages and eggs?
Lumbung Damuh Features
Depending on the waves you can go snorkeling and fishing, boating with the local fisher boats, or you might want to try boogie boarding or surfing. There are also numerous dive shops here and you can do a beginners PADI course right next door. If you like action you can go trekking and mountain biking otherwise you can stroll the short street of Buitan with the good and cheap warungs (restaurants) little local tokos (shops) and souvenir shops. When you have tired yourself out and want to treat yourself to some goodness, then you can have a massage in the comfort of your Lumbung.
Lumbung Damuh Map

Villa
Rate
Lumbung Standard
Two Persons. (double bed)
Including Breakfast.persons) Including Breakfast.
$19.00
Lumbung Superior
Three Persons. (+ baby cot = $37.61)
Including Breakfast.
$30.00
Lumbung Deluxe
Four Persons.
1 double bed & 2 single beds.
Including Breakfast.
$23.00
$26.00
$30.00
Extra Beds available at $4.00 per night per person (includes breakfast)
Airport Pick-Up Price = $23.00
Tours (car with driver)
Half Day = $19.00
Full Day = $38.00
The above rates are quoted in US Dollars.