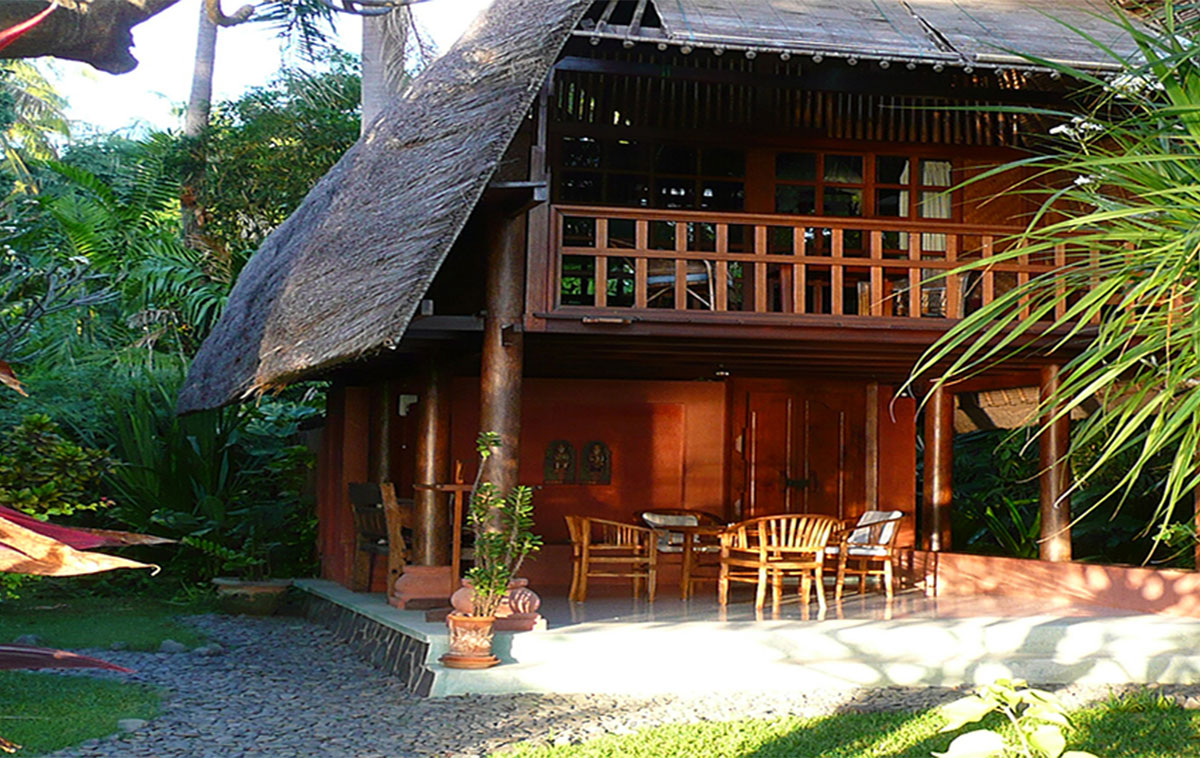 Ciliks Beach Garden Location
Located at Air Sanih ( Singaraja ) North – Bali Indonesia. The private Bungalow Resort at Bali's northern coast.
CBG lies on the black-sand and vulcanic-rock coast of Bali having an almost maximum possible distance from the mass-tourist areas and Denpasar airport with polluted air and congested roads. This northern region is sheltered by the Agung and Batur mountains and has a much drier climate with more sunshine than the rainier south.
The coastal location of CBG moderates the heat, provides fresh sea wind and makes Bungalow-Villas and the garden almost mosquito-free most of the year. Usually the sea is so gentle without strong waves or currents that CBG is an ideal place for swimming in the sea ! The Villas and the garden are seperated from the coastal road by massive walls and high trees.
Ciliks Beach Garden Description

Ciliks Beach Garden (CBG) offers four exclusive, comfortable Bungalow-Villas in a two hectare large natural palm beach garden right by the sea. Modern open design, built in Balinese style, suitable for the climate.
Spacious, elegant living- and sleeping rooms, large terraces and open bathrooms, all integrated within the garden. Even the view from the desk is magnificent ! Garden pavilions expand the areas for eating, reading, lounging, or simply enjoying the ocean views, fresh sea breezes and the sound of waves.
Ciliks Beach Garden Services
Absolute privacy, a beautiful surrounding, sophisticated Hotel service and our cuisine with carefully selected authentic Balinese dishes will treat you to a wonderful experience as our private guest and make you feel at home immediately. Whether for breakfast, lunch or dinner: We shall be pleased to satisfy your wishes! A selection of classical music, CDs and audio cassettes, is provided (or bring your own favorites). A small library of selected novels and books on Bali is also available. Telephone, fax and internet access will keep you in touch with the rest of the world. Table – tennis facilities, a badminton court, massage, swimming and snorcheling in the sea, a boat ride and tours across the island. Whether you are exploring Bali, or looking for an extended, relaxing vacation or working retreat. CBG offers the very special, private ambience for individuals with high expectations.
Ciliks Beach Garden Features
Many excursions in the surrounding area are possible: Visit fascinating north-Balinese temples, traditional villages with original Hindu-Balinese ceremonies, Wayang performances in their authentic ritual settings, the production of Ikat textiles, Gamelan instruments and Wayang puppets !
Have a bath in ice cold waterfalls or in a hot spring ! Take our boat for a ride to meet hundreds of dolphins and go snorcheling ! Watch deep sea fishing with kites and catch your own tuna fish ! Climb to the rim of Mount Batur to watch the sunrise and observe volcanic activity ! Play badminton or table tennis on our premises ! Or just relax and listen to the sound of waves and feel the breeze on your skin.
Ciliks Beach Garden Map

Villa
Low
High
Villa Ost
US$173.00
US$195.00
Villa East
US$151.00
US$167.00
Oktagon
US$123.00
US$186.00
Lumbung
US$95.00
US$100,00
Low Season
01 Oct. – 31 May
High Season
01 June – 30 Sep.
hese base rates apply for an occupancy with two guests.
Every adult guest more or less is US$22, children between 6 and 12 years are US$17, children below 6 years are free of charge.
All our prices are subject to 10% Government Tax.