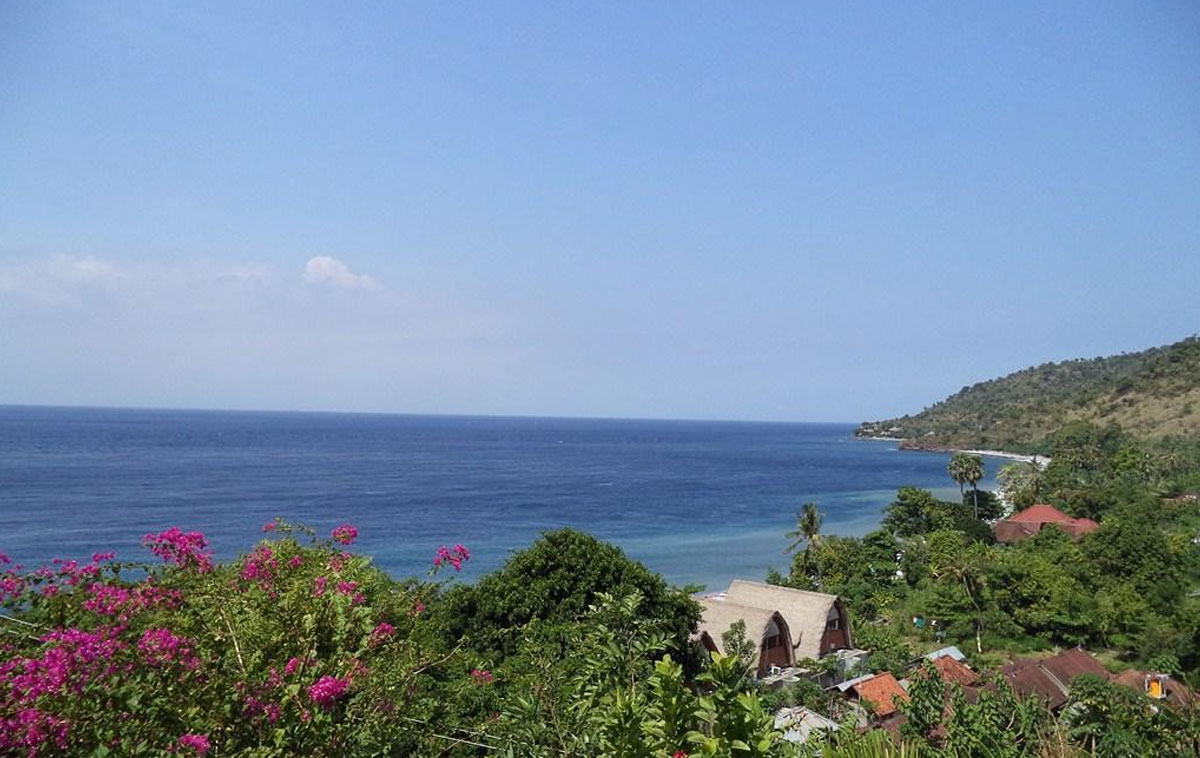 Baliku Dive Resort Location
Naturally stunning and tranquil, Amed is the premier scuba diving and snorkelling destination on the East coast of Bali. Amed, with its many coconut lined bays, Japanese Shipwreck, coral-adorned reefs which are home to a myriad of exotic lifeforms, offers a dazzling snorkel or dive experience. Amed, with its villagers living as they have for generations, devoted to their religion and delightfully bemused by visitors to their area – smiling faces – free spirits.
Baliku Dive Resort Description

A harmonious synthesis of traditional balinese craftsmanship and the more eclectic "Bali modern" style. Beautiful villas surrounded by lush gardens, frequented by a rich variety of birdlife and butterflies. A boutique style resort nestled on the hillside above a fishing village with stunning mountain and ocean views to Lombok, yet just steps away from the beach – a real retreat. A real retreat, yet only an hour or so from cultural and historical sites of interest as well as incredible shopping destinations, making Baliku the ideal base for your tropical sojourn. Luxurious free standing villas with breathtaking views – privacy assured.
Baliku Dive Resort Services
Entertainment:
A cultural experience not to be missed. Our unique Genjek troupe and Joged dancers will ensure your enjoyment well into the night.
Massage:
Relax and enjoy a rejuvenating massage with our experienced masseuse, Ibu Nengah, or opt for a Spa package including traditional body scrub, facial and manicure.
Windsurf Craft Rental:
Ideal conditions exist right opposite for this exhilarating sport. Craft and all accessories available. Instruction also available.
Scuba Dive:
Experience this most popular dive destination with our professional international team of instructors and dive masters. Courses available from introductory to Instructor. Services available in English, French, German, Dutch, Cheko and Indonesian.
Tours and Transport:
A range of tours available, or create your own, at more than reasonable prices, with our experienced driver and guide, Tajus. Airport Pickup etc.. Trekking guides also at your service.
Baliku Dive Resort Features
The Pavilion Restaurant:
International standard and of enormous repute, offering both Indonesian and International Cuisine, catering to every palate and to any whim. Here you will enjoy fine food, smiling efficient service in a tranquil environment with absolutely awesome views. The menu is ever changing, as it is a market menu, contructed around daily purchases of the freshest, finest quality produce and seafood.
Maharasta Beachfront Cafe:
Relaxed and casual, right on the beach, offering Balinese and Asian favourites. A traditonal Balinese cafe. A great place to meet and chill out with friendly and fun staff. Rent your snorkelling equipment here.
Pool Area:
A wonderful infinity edge swimming pool, with submerged seating by the pool bar – anyone for a cocktail?
Baliku Dive Resort Map
Villa
Rates
Familly Villa
(bed, breakfast, afternoon tea)
US$176.00
Familly Villa
(room only)
US$137.00
One Bedroom Villa
(bed, breakfast, afternoon tea)
US$106.00
One Bedroom Villa
(roon only)
US$82.00
Taxes included