BALI INTERNATIONAL AIRPORT
Arrival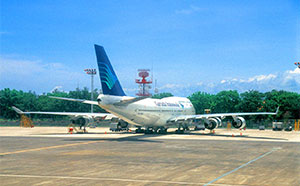 Proceed through customs & immigration. Many countries are eligible for a 30 day free visa. This visa cannot be extended. This 30 day free visa can be used for the purpose of tourism, business, education, government related tasks, socio – culture, family visits or transit. This 30 day Indonesia free visa cannot be used for journalism. Change a small amount of money before you exit the terminal if required. Better exchange rates in town. Your driver will find you and take you to your villa. If a driver is not arranged you should proceed to the Taxi Booth and purchase a voucher to your destination. The voucher system ensures that your fare is the standard fare. Note: Kuta, Seminyak, Kerobokan are all around the same area – however a slight fare difference is incurred.
Departure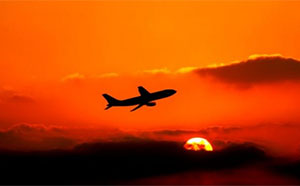 Check your ticket and arrive 2 hours before your flight is due to leave. Your villa should provide a driver. Note: Purchase gifts, etc. before you leave. Airport prices are more "international." As of 9 February 2015, all airlines departing from Indonesia are required to include the airport departure tax in the price of the ticket.
KUTA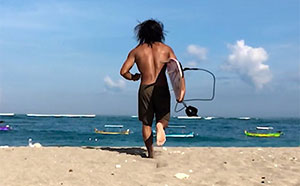 Kuta, first discovered by the surfers and hippies of the 60's, has now become known around the world for its magnificent sunsets, surf beach and nightlife. Once a sleepy fishing village it has now been transformed into the center of all the Bali action. Whether you are looking for leather, fashion, handicrafts, jewelry, shoes, DVD's, paintings or exotic wood carvings – don't forget to bargain. Kuta with its markets, street vendors, night clubs, hotels, restaurants, bars and plenty of entertainment, is full of nonstop action. If you want to find a bargain to bring home, just want to relax on the beach, or perhaps "party till you drop" – then you'll find Kuta is everything and more.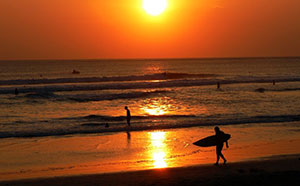 Kuta, with its daily spectacular sunsets, is also the centre of night life activities in Southern Bali and a shopping mecca. It has rows of shops, boutiques, and galleries. Restaurants line the streets and accommodation ranges from small, inexpensive homestays to luxurious resorts. The beach of Kuta is one of the first beaches discovered by tourists and is still a favourite. On the south, the beach is fenced by the airport's runway, which gives you a breathtaking landing experience. The beach stretches as far north as the eyes can see. As short walk away, north, the waves will invite you to test your surfing. Kuta is very short drive from the airport, and transport is readily available.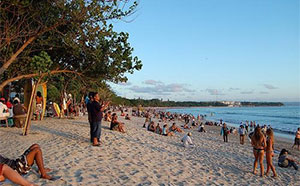 The white sands of Kuta are still arguably the best beachfront on Bali. The beach is much cleaner than just a few years ago, although the vendors remain annoying. Kuta is not the fishing village it once was: it is now a booming Pacific resort and its streets are amass with tourists and traffic during peak seasons. Legian is more quiet, less crowded, and more suitable for longer stays, although in many ways it has become an extension of Kuta.
NUSA DUA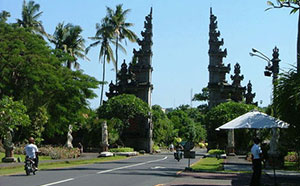 Nusa Dua was designed for the luxury conscious with a heavy concentration of big name hotels lining the beautiful white sand beach. Some of the resorts have private beaches but most areas are accessible. The stretch past the Hilton Resort has been a public beach and during the wet season, the outer reef boasts a popular surf break. You will find some simple warungs selling good food at cheap prices along this beautiful stretch of white sandy beach that offers excellent swimming conditions in a protected lagoon.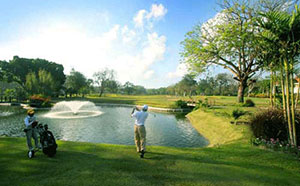 Bali's southern peninsula is where you find most of the island's international 4 and 5 star hotels. Set in a manicured (not traditionally Balinese) garden environment. Quite nice beach with shallow water, no high waves. All kinds of water sports and an 18-hole golf course. Restaurant choice is limited outside the hotels and price is generally slightly higher than the Kuta or Sanur areas. Some more reasonably priced reaturants are located in adjacent Tanjung Benoa and Bualu village.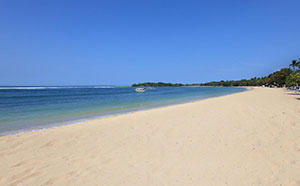 Shopping is split between the clothing markets at the front of Nusa Dua where you can barter for anything from socks to copy watches; and the designer stores of Galleria. Nusa Dua is only 25 minutes from the airport and 35 minutes from all the shopping and life of Kuta. Nusa Dua's location makes it very easy to enjoy the best of both worlds. If up market villas and extensive resorts with huge pools overlooking the ocean; or being able to walk to a golf course, is what you visualize for a holiday, then Nusa Dua is the place.
SANUR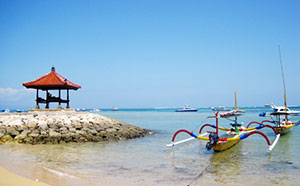 The best way to describe Sanur is like a small Balinese mountain village – by the sea. Sanur has one lazy street which winds its way behind the beachfront hotels, dotted with small restaurants, and shops which cater for every taste. Up until 1991 Sanur was the favoured area by the majority of tourists to Bali. With the advent of resorts in Nusa Dua and the Kuta side of the Island, it was relatively forgotten except for those who new better.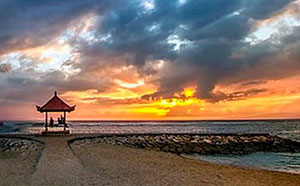 Sanur is one of the best places to stay in Bali if you are looking for some relaxation but still having the convenience of local shops and restaurants – without the constant hassling from hawkers. It is easy to travel anywhere from Sanur, the frenetic shopping and bartering and nightlife of Kuta is only 20mins away by taxi, Ubud is only 40mins, and the airport 20mins. The beach in Sanur is protected by a reef so is very safe to swim but only at high tide. At low tide, rock and some reef become exposed. The beach is white sand and quite wide. The best part about the beach here is the views offered across the water from a number of small hotels and the restaurant at the Raddin.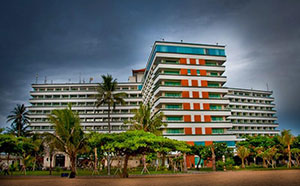 If you are looking for small Balinese style villas with perhaps a thatched roof or a resort style property with beautiful gardens, you will find it in Sanur. If shopping and eating in a laid back, relaxed style, contained within peaceful surroundings is what you are looking for, this is the place.
CANGGU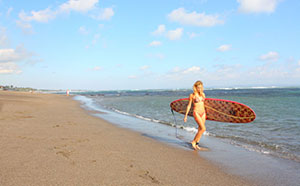 It is worth traveling on the main road that follows the western coast up towards Gianyar in the north for the scenery alone, but these drives can also lead to some beautiful surfing conditions. Just out of town is Canggu, where some hillside villas here offer simple under stated comfort and make the most of the great ocean views and wonderful surfing opportunities.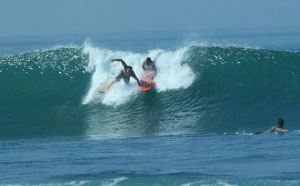 The mix of temperate whether and tropical water makes Canggu a surfing wonderland. Many people have been attracted to Canggu because of the great surfing it has to offer, and it is now one of the top surfing destinations in Bali. Canggu has developed into a "Hipster Heaven" in recent year and this attracts many your people to the various restaurants and bars. Located about 60 minutes drive from airport and 20 minutes drive to Seminyak and Kerobokan area.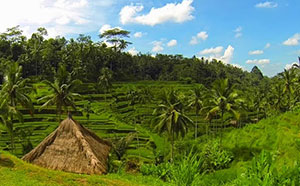 Located near Canggu, just across the boundary of Badung regency, Tanah Lot is the most well-known and photographed temple. A truly remarkable and feature temple, Tanah Lot is built on a stony narrow piece of terrain, which the high tides transform into an island, making right of entry from the land impossible. Tanah Lot is particularly spectacular at sunset when the illumination springs back over the waves.

The beach around Tanah Lot is less comfortable for swimming but great for horse riding and watching spectacular sunsets. Although you can surf in this area, it is not recommended for the beginner.
DENPASAR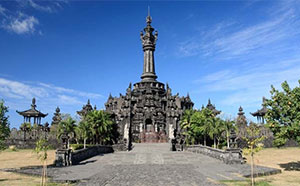 Don't make the mistake of skipping Denpasar while touring the island. Although, like any city, it is noisy and polluted, there is lots to see and do in this ancient town. Denpasar was rebuilt after the Puputan massacre of 1906; when the royal families committed suicide rather than surrender to the invading Dutch Army.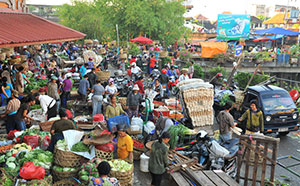 Today Denpasar is a bustling city of some 800,000 inhabitants – and more vehicles per capita than Jakarta. There is an excellent art center, a museum and the colorful (and cheap) market in Jl. Sulawesi. There are also several large department stores. You will also find many restaurants and fast food stores. The restaurant selection is wide and varied. Some dedicated searching will discover excellent Chinese and Asian food varieties.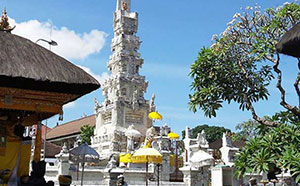 Denpasar is the largest and busiest city on the island and originally developed from a trading center. The name means "east of the market." It is the headquarters for the government, the media, the island's principal banks, airline offices, and hospitals. A hot, dusty, cacophonous city, Denpasar has grown fifteen-fold over the past 10 years. The inhabitants consist of Bali's original gentry, the priest class, and the new Balinese techno and bureaucratic elites; as well as Indonesians drawn from other islands to this economic magnet. Denpasar is one of Indonesia's most fully integrated and tolerant cities, with separate kampungs of Bugis, Arabs, Indians, Chinese, Madurese, and Javanese. Without doubt it is the richest, most important city in Eastern Indonesia.
UBUD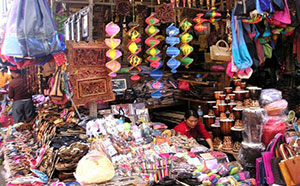 Ubud is a remarkable town in the middle of the island of Bali. For more than a century, it has been the island's pre-eminent centre for fine arts, dance and music. While it once was a haven for backpackers, cosmic seekers, artists and bohemians, Ubud is now a hot spot for literati, glitterati, art collectors and connoisseurs. Famous names walk its busy sidewalks everyday. Elegant five star hotels and sprawling mansions now stand on its outskirts, overlooking the most prized views in Bali.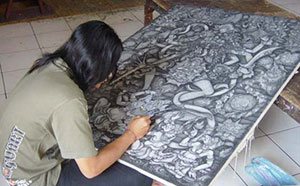 Nonetheless, Ubud is still popular with backpackers, mystics and all the finest fringe elements of global society. Ubud is not "ruined." Its character is too strong to be destroyed. It still draws people who add something; people who are actively involved in art, nature, anthropology, music, dance, architecture, environmentalism, "alternative modalities," and more.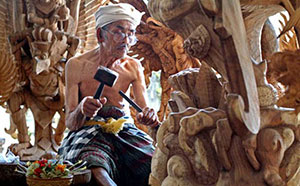 The center of Balinese painting, Ubud's Museum "Puri Lukisan" has a permanent collection of modern works of Balinese art dating from the turn of the century. There are also several art galleries and homes of famous artists, including the Dutch-born Hans Snel and American Antonio Blanco. The "Young Artist" style now popular in Balinese painting was introduced by the Dutch painter Arie Smith. In the past, other foreign painters inspired Balinese artists to adopt western techniques, but traditional Balinese paintings are still highly collectable. The Neka Museum has a wide collection of paintings by Indonesian as well as foreign artists who used to live in Bali.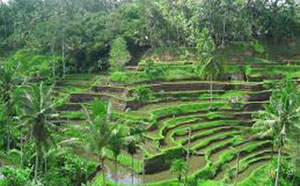 Ubud is arguably the best place to use as a base if you're visiting Bali; if you're looking for culture, comfort, nature and inspiration. Ubud is surrounded by most of the things that bring people to Bali – scenic rice fields, small villages, art and craft communities, ancient temples, palaces, rivers, cheap accommodation and unique luxury hotels. And it's central location makes it easy to get from Ubud to the mountains, beaches, and major towns.
CANDI DASA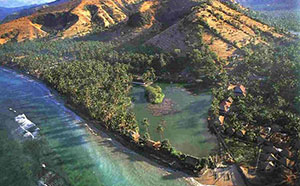 Candi Dasa is approximately 2 hours drive from Denpasar Airport and the southern resorts of Kuta and Nusa Dua. Enjoy peace and serenity in the sleepy seaside village of Candi Dasa. From here one has easy access to East Bali's spectacular unspoiled beauty. Dramatic views of Mt Agung, Bali's sacred mountain; lush green rice terraces clinging to steep and sweeping valleys; traditional villages following age-old customs; colourful rituals and ceremonies; and crystal-clear seas rich in coral and marine life. Here there is a timeless quality as ancient cultures and traditions remain unchanged – an essential element of daily life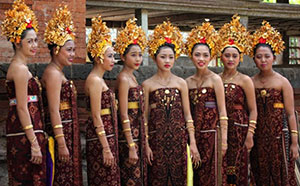 Discover the pre-Hindu weaving village of Tenganan and watch the textile-weavers create the magic cloth, "geringsing"; scuba-dive or snorkel in the abundant ocean – or skim across it in a glass-bottom boat, enjoying a fishing expedition! Explore the rich and diverse hinterland by bicycle, enjoy an easy trek or tackle the summit of the sacred mountain Agung.
AMED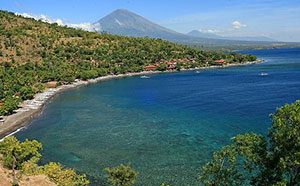 Amed is approximately 3 hours drive from Denpasar Airport and the southern resorts of Kuta and Nusa Dua. The area is a series of small bays and quiet fishing villages. The beaches are lined with colorful Jukung fishing boats that sail each morning at sunrise and return later to unload their catch. The safe, calm waters are perfect for swimming and their is an abundance of vibrantly colored fish and beautiful coral. Some of the best snorkeling and diving in Bali can be found in this area.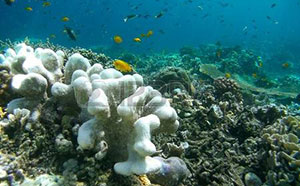 Activities in Amed include Diving, Snorkeling, Fishing, Sailing, Trekking, Guided Tours. Tirtaganga and its majestic water palace. Cool, crisp, clear water and amazing views of the rice terraces. Amlapura is the capital city of this regency of Karangasem. It is a lovely old town – not yet used to tourists. It is delightful to wander around, taking in the colors, sounds, and smells.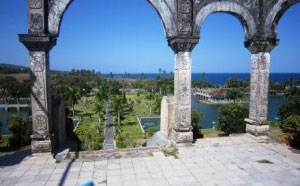 Ujung is beyond Amplapura. Here is the site of the once splendid Ujung Water Palace – with a little imagination one can still conjure a vision of its former glory. The drive to Sidemen is one of my personal favorites in Bali. Go and have lunch at the Sacred Mountain Sanctuary, return via a different route.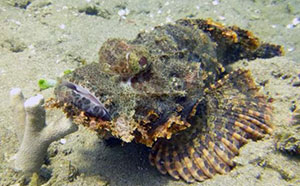 If you just want to relax by the pool or on your verandah, take a swim, sip a cocktail, fresh juice or a cold beer, have a massage or read a book; Amed will provide the peace and tranquility you are looking for.
LOVINA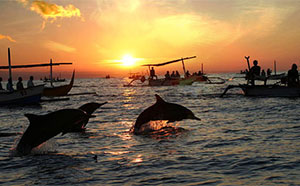 Lovina nestles at the bottom of steep hills on the north coast of Bali and is renowned for its gentle waves, cool sea breezes, sunsets and laid back beach life. Nearby are medicinal hot mineral springs, a Buddhist temple, waterfalls and exhilarating mountain village walks. Located only 4 km. west of Singaraja, the capital of North Bali, and a 90 km. drive from Denpasar.

Singaraja, the old Dutch colonial capital gives you the chance to soak up the atmosphere of a typical Indonesian town. Within an hour's drive are lakes and waterfalls, hot springs and a Buddhist Monastery. A little further afield is the active volcano of Batur. Scuba diving excursions can be arranged to view the local reef off Lovina Beach which is rich in coral and tropical fish. Within a 1 hour drive is the West Bali National Park which has the best coral in Bali. Tulamben is close also, where you may dive the wreck of the USS Liberty. Early morning dolphin sightseeing tours can be arranged from Lovina.
PEMUTERAN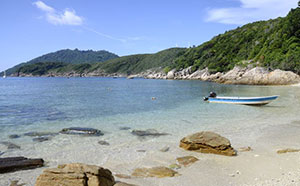 Located in Bali's far northwest, Pemuteran sleeps quietly between Bali's national park and the Bali sea. About 15 minutes to West Bali National Park and Menjangan island diving sites, 1.5 hours to Singaraja, capital city of north Bali and about 3 hours drive from Denpasar, the capital of Bali in the south.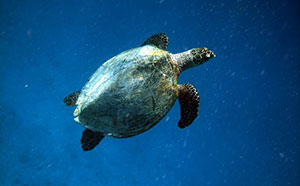 This peaceful place is ideal for natural excursion activities such as trekking at the National Park, swimming, snorkeling and diving. Famous for its reef and turtle conservation programme, Pemuteran is also great as a base for short or long jungle treks or bird watching trips. Other activities include sea kayaking, cycling and horse riding both along the beach and into the surrounding hills. Pulaki temple, one of Bali's oldest and most important temples, is close-by as are some relaxing hot springs.