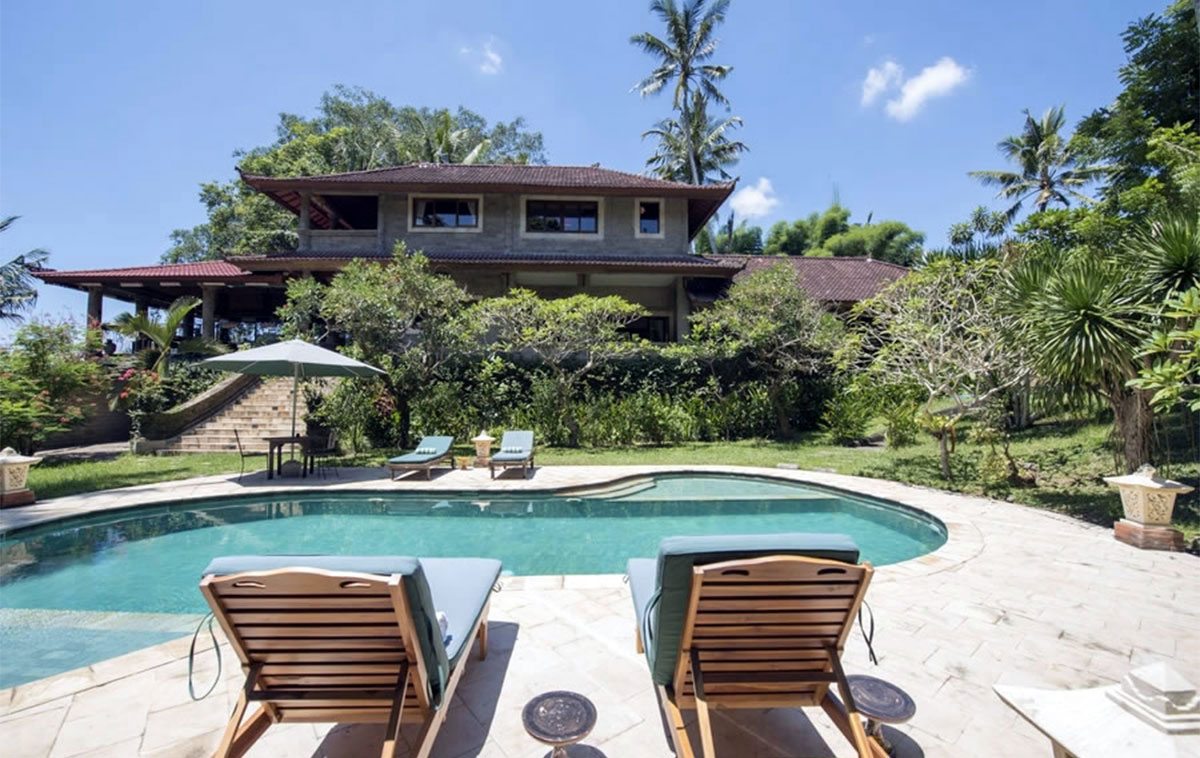 Villa Umah Nyepi Location
Umah Nyepi is located near the village of Jakut Paku, about five minutes drive from Ubud and just over one hour from Bali International Airport.
Umah Nyepi is nested above the River Wos, close to the town of Ubud, the heartland of Balinese culture. Around the villa nature is strong and generous, the swimming pool is surrounded by jungle and tropical birds and the master bedroom overlooks rice terraces, jungle and the Gunung Agung volcano.
Villa Umah Nyepi Description
Umah Nyepi offers private and secure Bali villa accommodation and is a great alternative accommodation in Bali. Fully serviced with staff and facilities this beautiful villa offers you a unique Bali holiday experience.
Umah Nyepi is a very comfortable and private Bali holiday option for families or groups of friends. It is also ideal for weddings and corporate retreats. Hidden away from public eyes, Umah Nyepi is often chosen for events that value discretion and privacy. Contact us if you need luxury Bali villa accommodation during your Bali holiday.
Villa Umah Nyepi Specifications & Facilities
Land area: 11,000 m²
Two buildings total area: 1,100 m²
23,000 Watts electricity
Swimming pool: 10m x 6m x 1.6m
All rooms air-conditioned
Five bedrooms, four with with private bathrooms with showers, two with an additional bath
Internet around the house with three separate service providers
Most floors are recycled iron wood; most furniture is teak
Many rooms have paintings, antique maps and other art collected by owner
Home entertainment, Nespresso coffee maker, full WiFi throughout the premises
iPod stereo facilities wide screen television
Very large garage with room for six cars, bicycles, surfboards, etc.
The Swimming Pool
Set in the beautiful tropical garden and surrounded by jungle the swimming pool is lined with green stone. The pool is 10 metres long, 6 metres wide and 1.6 metres deep with two shallow areas for safety. There are deck chairs, one large table and chairs with a sun umbrella suitable for meals by the pool and two side tables on the large white stone pool deck, pool towels are supplied.
The Dining Area, Bar & Kitchen
The unique kitchen and dining area is located in a separate building overlooking the gardens and swimming pool. The dining area contains a large main dining table with seating for eight. The kitchen is fully equipped with a large fridge, electric oven with grill, electric and gas heated cooking plates, a double sink and a food preparation area and central carving block.
The Main Salon and Patio
The main salon has a day bed and opens onto a terrace patio overlooking the river. The patio has a 16 person dining table and a cozy settee area.
The Bedrooms
The villa has five bedrooms and the main salon can also be used as a bedroom. One is often used as a children's room as it has bunk beds. The large master bedroom upstairs has a private terrace, an en suite study and double bathroom. The two ground floor bedrooms open onto the main veranda and deck. All the bedrooms are beautifully furnished and equipped with spring mattresses.
The Bathrooms & Laundry
There are four bathrooms in the villa, two with a bath. The bathrooms are fully equipped with bath towels, face cloths, etc. There is a fully equipped laundry with a washing machine and ironing facilities. Laundry service is available.
Villa Umah Nyepi Other Facilities
Umah Nyepi has a range of facilities that are too numerous to mention but include a small library of books in English, French and Dutch, a selection of music, various musical instruments and a chess set on a table overlooking the river. Mountain bike, yoga mats and dumbells are available.
Villa Umah Nyepi Services & Staff
Umah Nyepi offers a wide range of Asian and Western cuisine at reasonable prices. If you want to organise your own food the cook can prepare either Indonesian or Western meals and will do the shopping on request.
There are many services available in the vacinity, the staff can arrange for Balinese massage at home or outside, there is video rental available in Ubud and a wide range of take away meals are available nearby. The staff can arrange for car or motorcycle rental and just about anything you need.
There are four Balinese staff employed at Umah Nyepi; a facility manager, a concierge/mechanic, a cook and driver/gardener/security guard are employed full time.
Villa Umah Nyepi Map
Rates
US$425.00
Villa Rates are subject to Government Tax and Service Charge